Groundbreaking Strategies for Parenting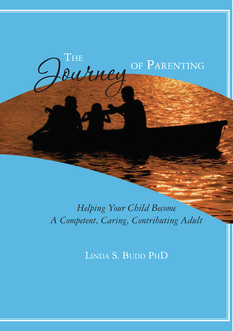 Young parents today have a tendency to turn to the Internet for problem-solving ideas when it comes to parenting, a process
Dr. Linda Budd
refers to as answer grabbing. Every parenting technique has its own set of assumptions about the nature of the child and his or her development. For a technique to really work, parents must understand its assumptions about the child's temperament and the parent-child relationship. Are the underlying beliefs aligned with the parents' beliefs? When frustrated or scared, parents seek to find a quick and easy solution to a problem, such as logical consequences, they often use the technique to simply try and control their child; however for such a technique to work, parents must instead spend most of their time encouraging the behavior they expect. In answer grabbing, the relationship aspect is often missing, and it is easy to overlook the larger picture of what the child is learning.
The Journey of Parenting
helps parents understand the connection between what they are teaching their child now, and how it relates to what they want their child to actually learn in order to become a self-sufficient and thoughtful adult. Are you unintentionally undermining your goals for your child's development? What interferes with helping your child feel secure? How does respect change over time? Answers to these questions and many more are in this valuable and highly supportive guide. It is the author's wish that after reading this book, parents will be able to walk through their fear and toward their mission. Children are always learning. Hopefully, parents are learning too.
Reviews
"Parenting our kids is critically important and, at times, confusing. Based on years of research and experience, Linda Budd has created a four-channel model that can serve as lighthouses to keep our parental sailing on course. It's simple, sound, and practical. I'm sure parents will find it helpful."
David Walsh, PhD, Author of
Why Do They Act That Way?
"Wise, balanced, compassionate, and challenging. I can't think of a better comprehensive guide for today's parents. Linda Budd's immersion in the lives of real families comes through on every page."
William Doherty, PhD, Author of
Take Back Your Kids.
"Linda Budd brings a wealth of knowledge and experience as a therapist and parent educator to this gem of a book. Within a clear framework of children's social and emotional development from birth to adulthood, Budd offers parents fresh insight into the meaning of behavior and practical tips for helping children find the best within. Whether your children are toddlers or teens, this book will help you keep your eye on the goal of guiding your children to become the healthy, happy, compassionate and responsible people they are meant to be."
Marti Erickson, PhD, Co-host, Mom Enough™ (
www.MomEnough.com
)
"When parenting situations call for more than sound-bite solutions, Linda Budd's book can help parents of children from birth through age 20 look beyond the tension of the moment to the bigger picture of parenting. Likening parenting to maneuvering a boat, Budd uses the four elements of effective parenting (security, protection, respect and importance) as channel markers to help parents avoid the hazardous shoals in the river of parenting experiences. The many examples offer a wide range of suggestions from immediate responses to the importance of long-term rituals for keeping the parenting boat in the middle of the stream."
Jean Illsley Clarke, PhD, Author of
How Much Is Enough?
The Journey of Parenting can be ordered at
CreateSpace
or
Amazon
.
---