Groundbreaking Strategies for Parenting and Healthy Relationships


I'm OK, You're NOT OK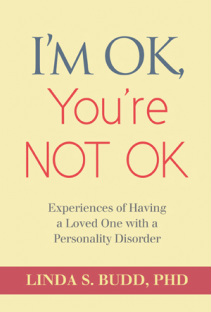 Does it feel like someone in your family drains you dry? Does it feel like no matter how much or what you do it will not be right or not be enough? Whether this person is your parent, your partner or spouse, your adult child or your sibling, I'm OK, You're Not OK will help you find ways to break the cycle you may find yourself in.

Dr. Linda Budd has been helping families for more than thirty-five years. In this groundbreaking book, she discusses what it is like to have a family member with a personality disorder. She names the games a person with personality disorder plays, which they believe are required for their own survival. These games, such as triangulation, projection and "no talk" quickly become part of a family system and impact everyone involved. Through candid case studies, Dr. Budd gives insight into what it's like being a child, a parent, a sibling, or a partner or spouse of a loved one with either borderline or antisocial personality disorder.

Finally, Dr. Budd outlines the lessons she has learned in assisting family members where these situations exist. These lessons are about denial, change, and hope. If you're dealing with a family member with a personality disorder, I'm OK, You're Not OK will give helpful advice and meaningful guidance to change your behavior to make your life and your family's life better.


---
Reviews

"This book will take you deep inside the world of people struggling to have healthy relationships with loved ones who have personality disorders. The stories here are riveting, the perspective humane, and the advice spot on. As I read the book, I kept thinking of families I've counseled who would have benefited greatly from Linda Budd's fresh and grounded wisdom. Now everyone will have that opportunity."
William J. Doherty, PhD: Professor of Family Social Science, University of Minnesota and author of Take Back Your Marriage.

"This books an important space in expanding awareness of the huge impact those with personality disorders have on their parents, siblings and children in daily life – while helping family members get past the guilt and craziness to real solutions."
Bill Eddy: Lawyer, Mediator, Therapist, President of High Conflict Institute and author of New Ways for Families Parent Workbook.


I'm OK, You're Not OK can be ordered on
Amazon
.
The Journey of Parenting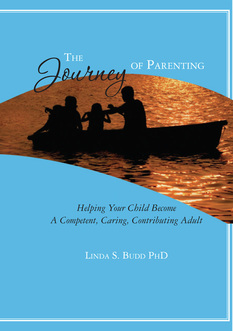 Young parents today have a tendency to turn to the Internet for problem-solving ideas when it comes to parenting, a process
Dr. Linda Budd
refers to as answer grabbing. Every parenting technique has its own set of assumptions about the nature of the child and his or her development. For a technique to really work, parents must understand its assumptions about the child's temperament and the parent-child relationship. Are the underlying beliefs aligned with the parents' beliefs? When frustrated or scared, parents seek to find a quick and easy solution to a problem, such as logical consequences, they often use the technique to simply try and control their child; however for such a technique to work, parents must instead spend most of their time encouraging the behavior they expect. In answer grabbing, the relationship aspect is often missing, and it is easy to overlook the larger picture of what the child is learning.
The Journey of Parenting
helps parents understand the connection between what they are teaching their child now, and how it relates to what they want their child to actually learn in order to become a self-sufficient and thoughtful adult. Are you unintentionally undermining your goals for your child's development? What interferes with helping your child feel secure? How does respect change over time? Answers to these questions and many more are in this valuable and highly supportive guide. It is the author's wish that after reading this book, parents will be able to walk through their fear and toward their mission. Children are always learning. Hopefully, parents are learning too.
Reviews
"Parenting our kids is critically important and, at times, confusing. Based on years of research and experience, Linda Budd has created a four-channel model that can serve as lighthouses to keep our parental sailing on course. It's simple, sound, and practical. I'm sure parents will find it helpful."
David Walsh, PhD, Author of
Why Do They Act That Way?
"Wise, balanced, compassionate, and challenging. I can't think of a better comprehensive guide for today's parents. Linda Budd's immersion in the lives of real families comes through on every page."
William Doherty, PhD, Author of
Take Back Your Kids.
"Linda Budd brings a wealth of knowledge and experience as a therapist and parent educator to this gem of a book. Within a clear framework of children's social and emotional development from birth to adulthood, Budd offers parents fresh insight into the meaning of behavior and practical tips for helping children find the best within. Whether your children are toddlers or teens, this book will help you keep your eye on the goal of guiding your children to become the healthy, happy, compassionate and responsible people they are meant to be."
Marti Erickson, PhD, Co-host, Mom Enough™ (
www.MomEnough.com
)
"When parenting situations call for more than sound-bite solutions, Linda Budd's book can help parents of children from birth through age 20 look beyond the tension of the moment to the bigger picture of parenting. Likening parenting to maneuvering a boat, Budd uses the four elements of effective parenting (security, protection, respect and importance) as channel markers to help parents avoid the hazardous shoals in the river of parenting experiences. The many examples offer a wide range of suggestions from immediate responses to the importance of long-term rituals for keeping the parenting boat in the middle of the stream."
Jean Illsley Clarke, PhD, Author of
How Much Is Enough?
The Journey of Parenting can be ordered at
CreateSpace
or
Amazon
.
---
Living with the Active Alert Child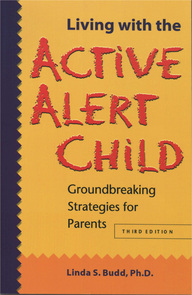 For all you parents with dark circles under your eyes, and for all you parents who put on your Nikes when your child was born and have yet to take them off four, eight, or ten years later,
Dr. Linda Budd
presents her knowledge on a unique temperament disposition she calls "active alert".
These children are active, alert, bright, controlling, fearful, intense, attention-hungry, and more. Dr. Budd discusses the characteristics of active alerts and their implications for parenting. She focusses on how to parent active children both at home and during their school years.
Dr. Budd tackles the subject from a family perspective rather than viewing the child as the "problem". She explores the different strategies required by parents given the difference in families and the different ideals parents have about their families.
In the third edition she also talks about these wonderfully special people as they become teen-agers, as they grow into adults and as they become parents themselves.
Reviews
"A big seller... Examines working with kids with really high energy levels who maybe need extra attention."
American Bookseller
"Provides hundreds of practical ideas for coping with high-energy children."
Parenting
"Spells out the characteristics of 'active alerts' and teaches readers how to help these children thrive in school and family."
Midwest Book Review
"Will teach you how easy it is to over-stimulate intense children,... how parents can bring out the best in them." Marguerite Kelly, The
Washington PostLiving With the Active Alert Child
can be purchased from
Amazon
,
Barnes and Noble
, or from
Parenting Press
.
---