Groundbreaking Strategies for Healthy Relationships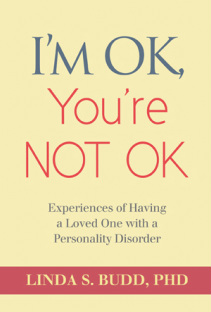 Does it feel like someone in your family drains you dry? Does it feel like no matter how much or what you do it will not be right or not be enough? Whether this person is your parent, your partner or spouse, your adult child or your sibling, I'm OK, You're Not OK will help you find ways to break the cycle you may find yourself in.

Dr. Linda Budd has been helping families for more than thirty-five years. In this groundbreaking book, she discusses what it is like to have a family member with a personality disorder. She names the games a person with personality disorder plays, which they believe are required for their own survival. These games, such as triangulation, projection and "no talk" quickly become part of a family system and impact everyone involved. Through candid case studies, Dr. Budd gives insight into what it's like being a child, a parent, a sibling, or a partner or spouse of a loved one with either borderline or antisocial personality disorder.

Finally, Dr. Budd outlines the lessons she has learned in assisting family members where these situations exist. These lessons are about denial, change, and hope. If you're dealing with a family member with a personality disorder, I'm OK, You're Not OK will give helpful advice and meaningful guidance to change your behavior to make your life and your family's life better.


---
Reviews

"This book will take you deep inside the world of people struggling to have healthy relationships with loved ones who have personality disorders. The stories here are riveting, the perspective humane, and the advice spot on. As I read the book, I kept thinking of families I've counseled who would have benefited greatly from Linda Budd's fresh and grounded wisdom. Now everyone will have that opportunity."
William J. Doherty, PhD: Professor of Family Social Science, University of Minnesota and author of Take Back Your Marriage.

"This books an important space in expanding awareness of the huge impact those with personality disorders have on their parents, siblings and children in daily life – while helping family members get past the guilt and craziness to real solutions."
Bill Eddy: Lawyer, Mediator, Therapist, President of High Conflict Institute and author of New Ways for Families Parent Workbook.


I'm OK, You're Not OK can be ordered on
Amazon
.