Groundbreaking Strategies for Parenting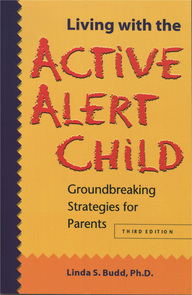 For all you parents with dark circles under your eyes, and for all you parents who put on your Nikes when your child was born and have yet to take them off four, eight, or ten years later,
Dr. Linda Budd
presents her knowledge on a unique temperament disposition she calls "active alert".
These children are active, alert, bright, controlling, fearful, intense, attention-hungry, and more. Dr. Budd discusses the characteristics of active alerts and their implications for parenting. She focusses on how to parent active children both at home and during their school years.
Dr. Budd tackles the subject from a family perspective rather than viewing the child as the "problem". She explores the different strategies required by parents given the difference in families and the different ideals parents have about their families.
In the third edition she also talks about these wonderfully special people as they become teen-agers, as they grow into adults and as they become parents themselves.
Reviews
"A big seller... Examines working with kids with really high energy levels who maybe need extra attention."
American Bookseller
"Provides hundreds of practical ideas for coping with high-energy children."
Parenting
"Spells out the characteristics of 'active alerts' and teaches readers how to help these children thrive in school and family."
Midwest Book Review
"Will teach you how easy it is to over-stimulate intense children,... how parents can bring out the best in them." Marguerite Kelly, The
Washington PostLiving With the Active Alert Child
can be purchased from
Amazon
,
Barnes and Noble
, or from
Parenting Press
.
---